If you have potential to achieve your dream,

If you have power to sacrifice the things,

If you have courage to put your whole efforts,

If you have strong reason to accomplish your goal,

Then, you will definitely get success in your ambitious goal.
UPSC IAS, is one of the most demanding and powerful exam in itself. Taking decision to become an IAS officer is in itself a proud moment. It is most prosperous and glamorous job in INDIA. And, you can earn this tag by your hard labour with proper guidelines. You don't need any recognize institution for this. You can do it with yourself, if you know the proper use of Internet. And it proved by CSE 2018 UPSC topper 'KANISHKA KATARIA'. He is as same as the other aspirants, but difference between Kanishak Kataria and other aspirants is- proper utilization of time with smart strategy, means, what matter is quality, rather than quantity. Unlike many who appear multiple times for the Civil Services Exam (CSE) conducted by the Union Public Service Commission (UPSC), the 2018 first topper Kanishak Kataria would not have attempted what is considered to be among the most difficult exams of the country more than twice. However, he not only cleared the competitive exam in his first attempt itself but also emerged as the all India rank 1 holder by outperforming over 11 lakh candidates who appeared for the UPSC exam 2018. He secured Rank 1, in his 1st attempt. The entire credit goes to his hardwork and determination.
About Kanishak Kataria:
A native of Jaipur, Rajasthan, Kataria comes from a family of civil servants. His father and uncle are in the services. His father, Sanwar Mal Verma, an IAS officer, is currently the Director of the Social Justice and Empowerment Department in Rajasthan. His uncle, K C Verma, is a Divisional Commissioner in Jaipur.
Kataria says, "Since childhood, I have been watching my father and uncle working as senior officials for the country. I too wanted to be the same…"
Kanishka Kataria completed his schooling from St. Paul's Senior Secondary School, Kota. In 2010, he had secured an incredible rank of 44 in the IIT JEE. Accordingly, he joined the IIT Bombay where he pursued a B.Tech in computer science and engineering. He completed his engineering degree in 2014. After pass out from IIT-BOMBAY, he went to Samsung in South Korea, worked for few years, left his  job that was fetching him 1 crore as salary at abroad and back to 'silicon valley of India' i.e. Banglore and began preparation with well-mannered plan. He says, "Somewhere down the line, I had developed an aspiration to be a part of India's growth story,". He also started working at QPLUM in Bangalore as a data scientist. Since he did not have much idea about the exam and its unique challenges, he stayed in Delhi and took coaching for about 7 – 8 months. But from March 2018, he stayed back home and engaged in self-study. Also, with the help of his father, sister and his GF, he got immensive motivation, inspiration, and adequate guidance to conquer the battle in his first attempt. Kanishka Kataria said, "When I started preparing for UPSC, I was clear that I wanted to give a maximum of two attempts at it. My family was supportive of my decision and always asked me to focus on the learning part of it rather than thinking about the results which also became my strategy moving forward. It helped me remain focused throughout." Since he was from science background and it has been 7-8 years when he left studying, so he had to do everything from root level. He then started reading NCERTs to cover the basic things. He believes that one can go to advance studies only when his basics are clear. So, he read NCERTs which helped him in building the foundations. 
To sustain the motivation, one should ask himself or herself, "Why do you want to an IAS officer?" The motivation should be internal, not external. Be optimistic always.
Kanishka Kataria Marksheet: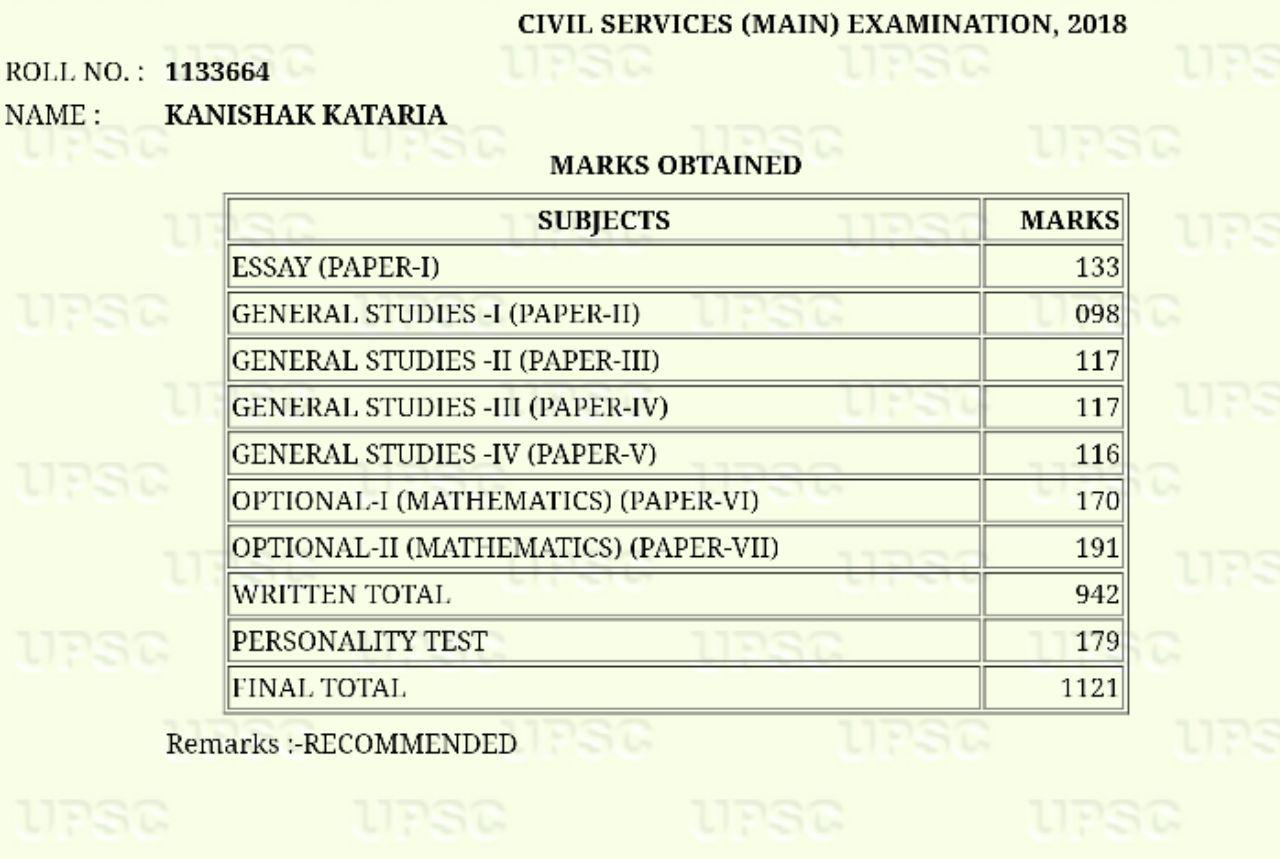 STRATEGY AND PREPARATION
Kataria had an engineering background and hence had to start preparing for the UPSC CSE exam from scratch. "I made an informed decision after talking to my family and friends who have cleared the exam. I was not in touch with the subjects since 7-8 years, so I had to start from the basics. I first began by reading NCERTs. These books are lucidly written and provide a foundation for any subject. Only after clearing one's basics does it make sense to refer to advanced books".
Kanishka pointed out few things for preparation:
1) FOCUS ON PREPARATION, AVOID DISTRACTION
There is various of things which always be going around us, which may affects aspirants either internally or externally. They should keep away themselves from that stuffs which distracts them from their focus. Candidates should not distract with the noise going around and focus on the strategy custom made for oneself. Custom made because the strategy is made by keeping in mind the strength and the weaknesses of the candidate.
2) MAKE SURE YOUR "WHY" MUST BE STRONG
Every aspirants has its own reason to become an IAS officer. Some want to become, because of power, some want to become because of money, or some want to become because of some concrete reason. Likewise, one should must have solid reason to become an IAS officer to motivate and encourage yourself internally.
3) OPTIONAL SUBJECT
Be cautious before selecting the optional subject. That is the part where you can easily score high if you are master piece of your optional subject. This can ensure your success with higher rank among aspirants. He was confident to choose mathematics as his optional subject. He suggests that the candidates to be thorough with the subject they are opting for the IAS exam. The optional subject should be such that it should not be felt like a burden. He suggested, the candidates should try to read and understand the easy topics of the optional subject and give it a time of at least ten days. If they understand and enjoy the topic or topics only then go for that optional subject or else choose another one.
4) CONSISTENCE STUDY
He told that he studied for around ten hours every day with full concentration so he can keep and reproduce whatever he is reading and studying. He also suggested the same to the candidates preparing for the IAS exam. He suggested not to study with half concentration. He suggested studying effectively and it is the quality that matters not quantity. He suggested that half-hearted efforts are not fruitful and will give no result.
5) MAKE YOUR OWN STRATEGY
He said that, he met with many of his friends who were preparing for UPSC, talked with them about his strategy of doing preparation, point out the tactics that is valuable for his preparation, and drew his own plan to accomplish his success. Then, he pointed out his strength and weekness and planned to work on it also, which also helped him to choose optional subject.
6) TIME MANAGEMENT
Key demand of UPSC is "usage of time". Most important thing of this exam is time management. Coaching can gives you guidelines only, but no one can you spoon-feed. You need to do work more on time management. The candidate should equally treat general studies as well as optional subject. If they are comfortable in the optional subject or general studies topics, he can change the ratio of effort accordingly.
7) ANSWER WRITING IS MUST
Answer writing is one of the most crucial and broadest part of this exam. And only keep one's hand in can make an individual perfect in writing. You have to write 250 words each for 20 questions in 3 hours. So, one's need to boost writing speed with clear handwriting and need to train the mind to think on every topic in each and every perspective.
8) ON MAKING NOTES
He said, there are no perfect notes, the notes can be improved over time. Do not wait to produce the perfect notes, instead start preparing the notes from day one. Prepare the topic strongly. Strongly means the candidate should be able to give most answers correct if the UPSC asks questions from that topic. It helps you a lot to write answers. The previous year IAS question papers can help remarkably in this area.
9) REVISION
Revision is the key to perpetuate the subject topics. He said the revision will keep the topics fresh in mind and will help in relating with others.
10) BREAK TIME
He told he always watch the football and cricket matches to refreshed his mind and then get back to the studies with energetic and full potential. He said, break time is vital part of schedule to refresh mind and get back with full concentrations. The aspirants can take break from studies once they feel bored or blocked. Such breaks will increase their efficiency.
11) MOCK TEST
Kataria said, "I also attempted various mock tests. My focus was not to just attempt it correctly but the mock tests also helped me to know about new topics. All the topics that were asked in the exam, I used to read that if I had read about it earlier then it gave me a revision and if I had not then I studied about it," he said.
The topper never prepared keeping results in mind, as suggested by his family and that made him more focused. "I weeded-out any anxiety or negative thought on purpose and focused on only one round at a time. For prelims, I prepared notes and started to study mains only when we came to it. This focus and clarity of thoughts also helped me remain calm and objective during interview round too," he said.
12) BOOKLIST by Kanishak Kataria (KANISHAK KATARIA HANDWRITTEN NOTES)

1) History
A) Ancient History:
Jain Sir class notes, Only few chapters from NCERT (couldn't remember much), Test series reverse learning
B) Medieval:
No bandwidth to prepare. Only relied on test series trivia.
C) Modern History
Parmar Sir class notes, NCERT, Spectrum (selective reading)
D) Art and Culture:
Vajiram class notes + test series., No bandwidth to read any book.
2) Indian Polity
NCERT: Indian Constitution at Work, Vajiram Classnotes (Ravindran Sir, Abhey Sir, Abhilash Sir, Gautam Sir), Laxmikanth
3) Geography
NCERTs – XI, XII, Vajiram classnotes (Shivarpit Sir, Manocha Sir, Amit Sir) , Self Map work, Rajtanil lectures – Only Physical Geography, Internet – pmfias
4) Economics
NCERT – XII Macroeconomics, Vajiram classnotes (Vibhas Sir, Samyak Sir, Kapuria Sir, Sanghi Sir), Sriram booklet (not end to end but topic wise), Economic Survey – Part II, Internet – Investopedia, Arthapedia, Vikaspedia etc.
5) Science
Vajiram classnotes (Bindu Ma'am for Biotech, Binoy Sir for Space Tech + Nanotech,Rahul Sir for everything else), nternet reading
6) Environment
NCERT Biology XII – last 4 chapters, Vaishali Ma'am class notes, Self notes using Unacademy, Internet, Shankar Book- selected chapters (didn't like the book that much), Current Affairs
7) Daily newspaper without fail
IYB: only class notes from Vajiram, PT 365s, Internet, No time for Magazines and Monthly compilations, Schemes, Newspapers + Vision PTs
13) RECOMMENDED ONLINE PLATFORM
In the words of Kanishak Katria, the feedback on ONLINE platforms:
Unacademy: tried in my 1st month of preparation. Didn't find it relevant for me. Sometimes had a look if I had to find some information. NOT A REGULAR LEARNER.
IASbaba: Followed TLP Platform for Answer Writing Practice (AWP) after Prelims. It helped me get into the AWP groove. I would HIGHLY RECOMMEND to those who want to get started with AWP. Quality of Questions is good. But feedback is difficult as many peple upload their answers. If you are able to get in touch with 3-4 people, it'll certainly be mutually beneficial. Otherwise you might get a little lost.
Insightsonindia: utilised for prelims (as explained earlier). Didn't find Mains answer writing platform relevant for me. Preferred IASbaba more for their quality of questions.
ForumIAS: ustilised for prelims and few offline tests at home.
14) ABOUT MAINS PREPARATION
For the mains exam, he spent 13 – 14 hours studying everyday. His dedication and determination is evident from the fact that for about 2 months before the mains, he completely shut himself off social media. He also reveals that he never gave much thought to the results, and focussed only on the exam and the preparation.
15) INTERVIEW QUESTIONS
The interview, informed Kanishka Kataria, was scheduled in March when Pulwama attack was in news. He was also asked about his opinion on India's terror strategy.

Kataria said, "they gave me a minute to think of a scenario where I was a secretary and was to talk about technology's development and its impact on job loss while creating a strategy to counter any loss in jobs. There were questions about my Korean experience. I know the Korean language so they asked me how is it related to Hindi. I was asked about Koren food people and culture too. "

He said he was not grilled during the interview. "I was asked about my work experience abroad and job profile here in India where I worked as a data scientist. They wanted to test what was my understanding of my core subjects including big data and its implementation in policy making."
This is all about KANISHKA KATARIA.
---
Thanks for Reading. Keep Sharing                                                                                   Source: Quora
---